Triana's brand new horror novel "The Long Shadows of October" will be unleashed this fall via Grindhouse Press. Official release date TBA. Cover art by George C. Cotronis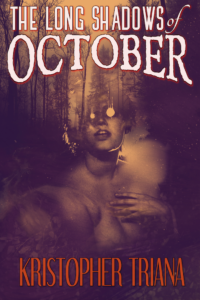 When Joe and Danny take on the job of house sitting Snowden Manor, they fail to realize that they won't be in the house alone. For inside the walls swarms a horrible specter, one that uses the manse as a prison for souls. She is part ghost, part succubus, and part black witch – an enchanting woman who died as a teenage girl within the house. And now that the October super moon is falling over the mountains, she is ready to reclaim her flesh.
Kayla is a shy girl who has a crush on Joe, so when he invites her to the house party she and her best friend Maxine come along. But no sooner do they get there than strange things start to happen. People go missing and the boys begin to… change.
Kayla is visited by wraiths on the mountain. They advise her to destroy the witch before she takes over the souls of her friends. This leads Kayla on a journey through necromancy and seduction, one that could cost her her sanity if not her life. And as Halloween approaches, the manor becomes a vessel for all the powers of darkness, leading to a showdown of otherworldly horror as the lines between two dimensions are severed.