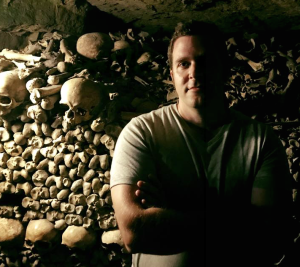 Kristopher Triana is an American author. His works include Full Brutal, The Ruin Season, Body Art, The Detained and Growing Dark. His latest novel is a small town drama titled Shepherd of the Black Sheep. His fiction has appeared in many magazines, anthologies, audio books and on websites, and some of his stories have been translated to Russian. His novel Body Art was translated to German by Festa Verlag. His fiction has drawn praise from Publisher's Weekly, Rue Morgue Magazine, Cemetery Dance and the late, great Jack Ketchum. While primarily a horror writer, he also writes crime fiction, literary fiction, southern gothic, noir, westerns, and whatever else his brain sets ablaze.
Born in New York in 1977, Triana was yanked down to Florida at the age of nine and was forced to grow up there, much to his chagrin. Luckily he had heavy metal music and John Carpenter movies to get by on. Once he was old enough, he escaped all that pesky sunshine, and since then he has lived up and down the east coast, from New England to the rural Carolinas. He is obsessed with all aspects of the horror genre, and has amassed a staggering collection of cult films, horror books, movie memorabilia, busts and Halloween masks. He also has a very strong love of animals.
He lives in Connecticut.