TRIANA'S ACCEPTANCE SPEECH
Splatterpunk Awards
Austin, TX
When my friend and publisher Carrie first notified me that I'd been nominated for a Splatterpunk Award, my skull reeled from a joyous sense of shock. To know that so many readers enjoyed my work that much is an award in and of itself, and I'd had no idea I was in the running. After a few celebratory drinks at home with my dog, my excitement turned to tears. The heaviness of truly being recognized for a lifetime of dedication to my craft, by people who love the genre as much as I do, was frankly overwhelming. Then I saw who else was nominated, and I was doubly honored to be among them, especially Bryan Smith, whose work I've admired for many years.
Bryan gave me a blurb for Full Brutal, as did many others writers I respect—Ryan Harding, Kristopher Rufty, Chad Stroup, John McNee. And just before he died, the late, great Jack Ketchum praised it on Twitter. To be applauded by my idol was incredible enough, but the timing was even more touching. Dallas was originally going to post on Twitter when the book came out in June, but he was on his deathbed months beforehand, so he decided to share a tweet while he still had time. That's the kind of guy he was.
There are many other people who've supported me along the way. I'd like to thank Tom Mumme, who is truly the best friend a writer could have and has done more to help me in my creative endeavors than anyone else. Thank you to Carrie (aka C.V. Hunt) and Anderson Prunty for publishing the book and working hard to make it the success it has become. Thank you to my dear fiends Tangie Silva, Josh Doherty and Nicole Amburgy for their overwhelming support, for reading my rough drafts and giving me their flight miles so I could travel to conventions. Thanks to Max Booth III and Lori Michelle for publishing my first novel, and to Marc Ciccarone and Joe Spagnola for publishing my first extreme horror novel.
And I think we all owe a round of thanks to Brian Keene and Wrath James White for bringing Killercon back to life. I also thank them for putting me on so many panels this weekend, allowing me to rub elbows with the greats, including Edward Lee, John Skipp and Wrath himself.
And of course I want to thank the readers. You're the reason I'm standing here. It brings me such pleasure to disturb you with my work, and I appreciate every one of you. Your kind words and loyal readership will never fail wow me.
And finally, I want to thank the woman this novel is dedicated to, my grandmother, Anne Donnelly. People laugh when they hear I dedicated such a vile, evil book to my Nana, but that's because they don't know how different she was than their grandma. My Nana loved horror. In fact, she gave me my first Stephen King novel. Her favorite comedy was Basket Case. We went to see the movie Seven together, okay? And she predicted the ending! And while Full Brutal would have been a little too extreme for her tastes, she would be so proud to see where my writing has taken me, and how our mutual love of the genre helped shape the writer I would become.
I love you and miss you every day, Nana.
This award is for you.
Thank you all so much.
Summer of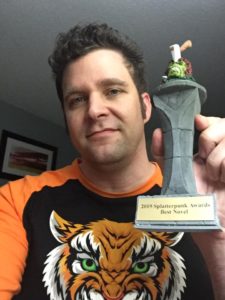 2019